Transfer files from laptop to android phone wirelessly.
There are several ways to transfer files from laptop to Android phone wirelessly. Here are a few options:
Bluetooth: You can use Bluetooth to transfer files from your laptop to your Android phone. Make sure Bluetooth is enabled on both devices, then pair them and select the files you want to transfer.
Wi-Fi Direct: Some Android phones and laptops support Wi-Fi Direct, which allows for direct file transfer between the devices without the need for a wireless network.
Cloud services: Services like Google Drive, Dropbox, and OneDrive allow you to upload files from your laptop to the cloud, then download them to your Android phone.
NFC: Near Field Communication (NFC) allows you to transfer files by tapping the two devices together.
Airdroid: You can also use Airdroid, a free android app that allows you to transfer files wirelessly via web interface.
WiFi FTP Server: A free android app that allows to transfer files without mobile data or hotspot but just by using Wi-Fi.
WiFi FTP Server
Today we will discuss about a free android app called "WiFi FTP Server". This app can easily find at play store and it has just 3.6 MB.
A WiFi FTP (File Transfer Protocol) server allows you to transfer files between your computer and mobile devices over a wireless network. This can be useful for transferring large files, such as photos and videos, from your computer to your mobile device without using a USB cable or cloud service.
Lets discuss about the steps involved in connecting your phone and laptop to get ready for file transfer.
Step#1 Open Play Store and download the app "WiFi FTP Server".
Step#2 Install the app then click "Start" button. (Keep it installed to share files in future when you need.)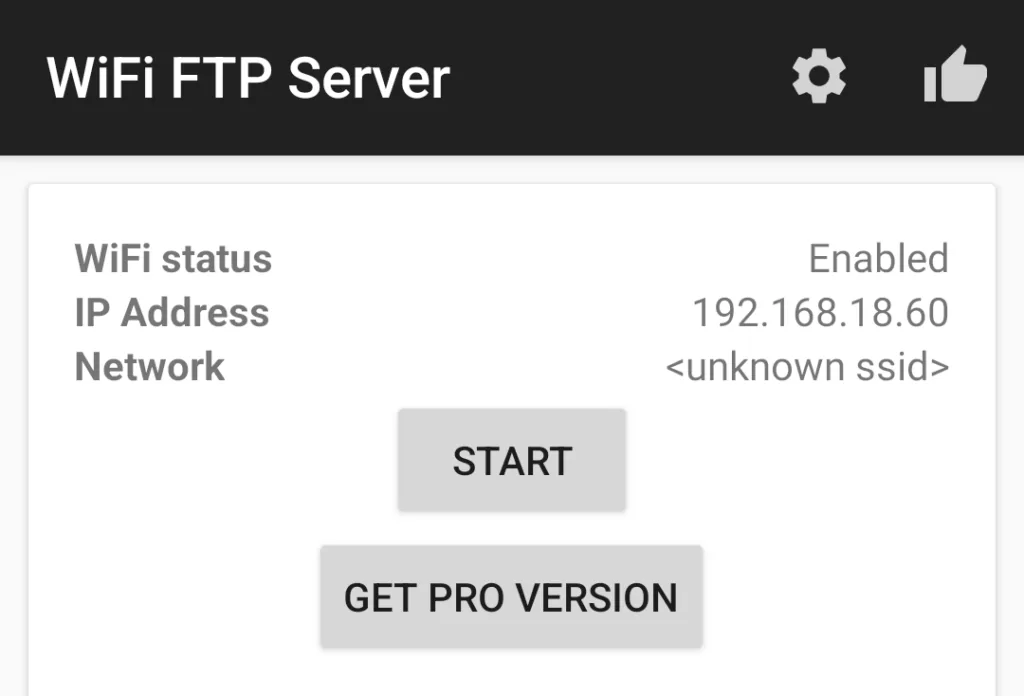 Step#3 Allow access to manage all files.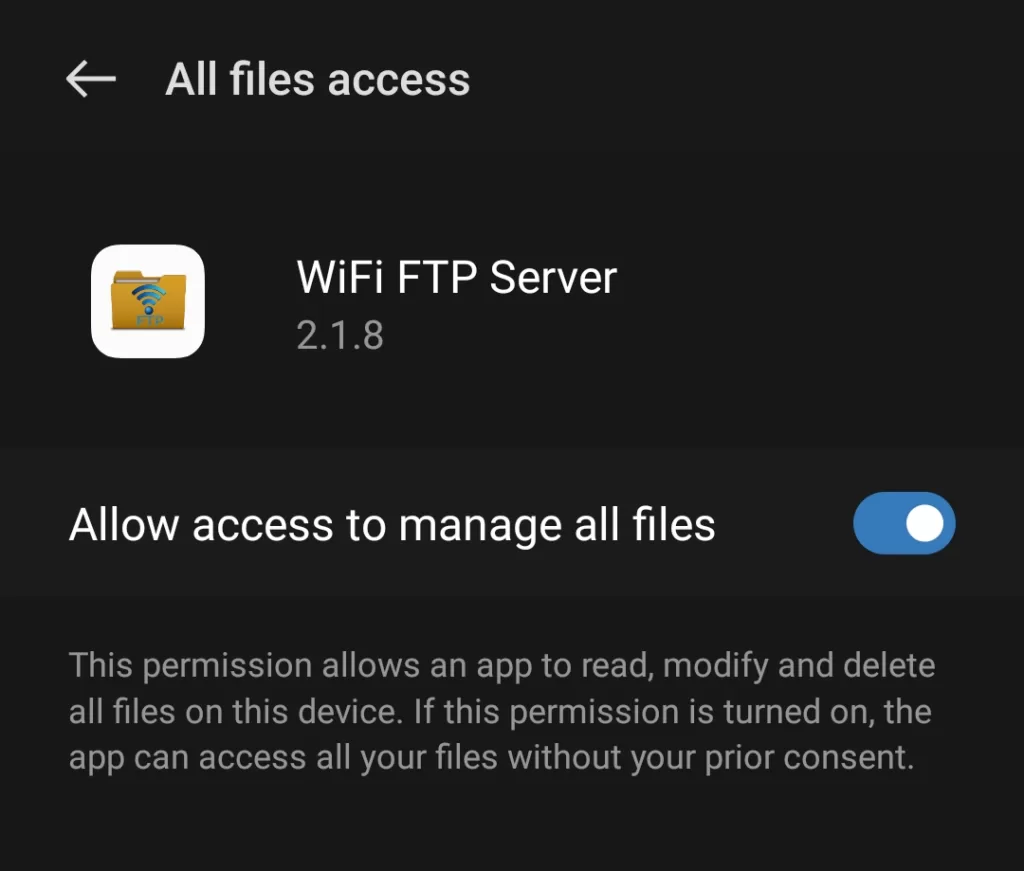 Step#4 Note the server URL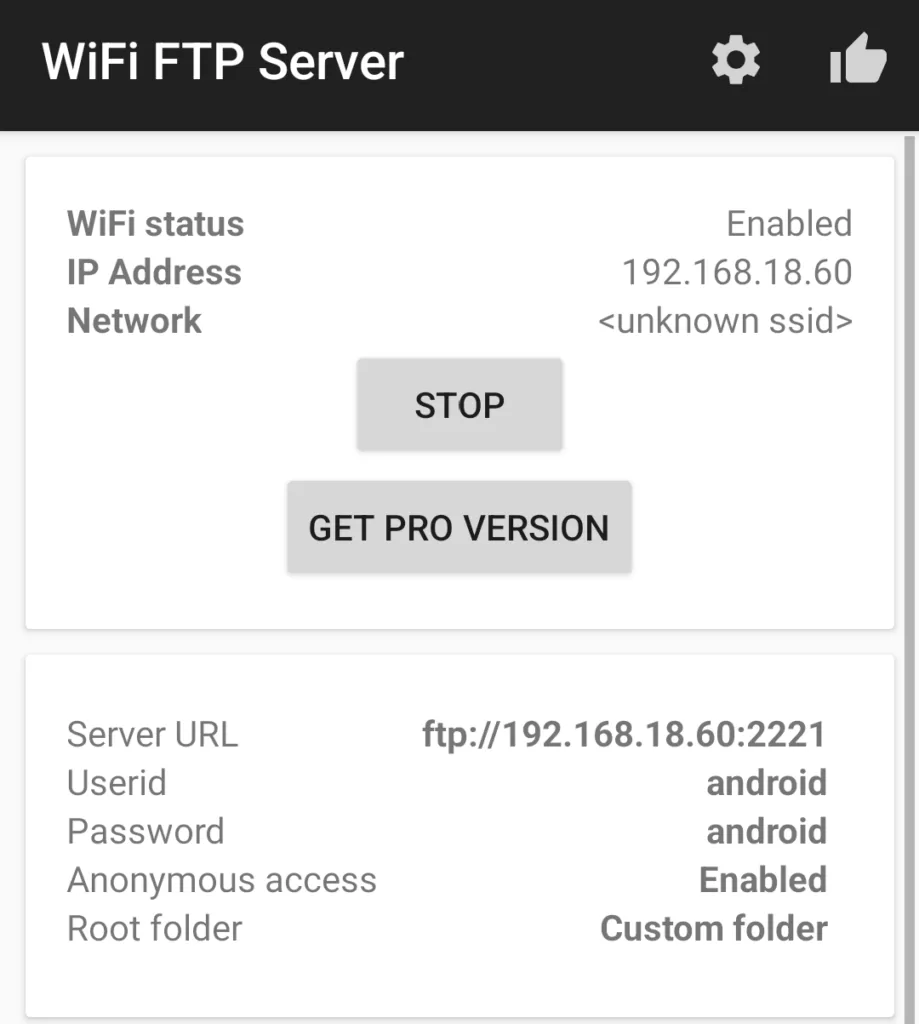 Step#5 Go to your PC folder and right click anywhere and then go to "Add a network location" then click "Next" and again click "Next".
Step#6 Enter the address here i.e. server URL
All set. Now you will find the phone files in your pc or laptop
Advantages of WiFi FTP server
There are several advantages to using a WiFi FTP server:
Mobility: Users can transfer files wirelessly from anywhere within the range of the wireless network.
Convenience: Users do not need to physically connect their devices to the FTP server using a cable.
Flexibility: Users can connect to the FTP server using various devices such as smartphones, tablets, and laptops.
Security: Users can secure the FTP server and files by setting up a username and password, and also by using encryption.
There are many apps available on play store, that can help you set up a WiFi FTP server on your computer, such as FileZilla Server, Core FTP Server and others. Once the server is set up, users can connect to it using an FTP client on their device, such as FileZilla, WinSCP and many others, and transfer files over the wireless network.
It's worth mentioning that, setting up an FTP server can be complicated and it's important to be aware of the security risks associated with it. It's always a good practice to use a firewall and to set up a password and encryption to secure the FTP server. Additionally, make sure to keep your FTP server software and operating system up to date with the latest security patches and updates to prevent any vulnerabilities from being exploited. It's also important to monitor the server logs for any suspicious activity and to limit access to the server to only trusted users and devices.
It's also worth noting that, running an FTP server on a personal computer may not be suitable for large file transfer or frequent use due to the limitations of the hardware and internet connection. In such cases, it's recommended to use a dedicated server or cloud-based file sharing service for better performance and scalability.