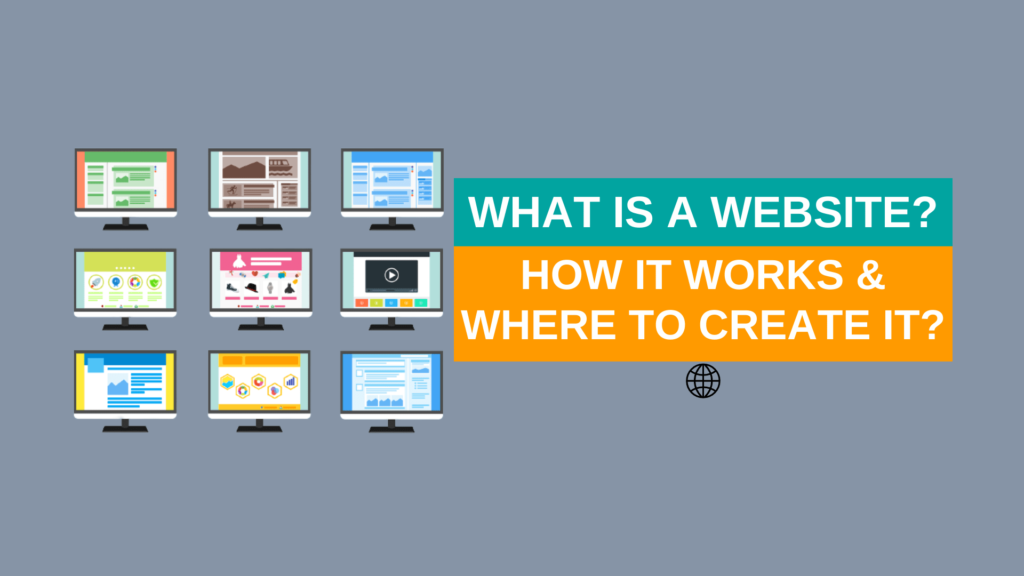 What is a website?
A website is a group of worldwide pages usually located under a single domain name. It usually contains hyperlinks to each other pages typically produced by an individual, company, educational institution, government, or organization.
A website could have a single page or thousands of pages. Each page of the website will have its own images, texts, and other elements according to our requirements. All website pages and contents are then placed in a folder and will store on your web hosting server.
There are codes behind each web page and these codes describe the format, layout, and other content on the page. HTML is the most common coding language that is used to create web pages.
How does a website work?
Now, let's discuss how a website works. So, before creating or designing, and launching your own website to the internet, it is very important to know how a website works.
Here are some basic points:
Website: As we have already discussed that a website is simply a collection of pages having codes behind it.
Web Server: It is an internet-connected computer that receives the request sent by a browser for a web page.
Browser: It connects your local computer to the server with the help of an IP address. This IP address is obtained by translating our domain name.
In other words, to display your website on the internet, you will need;
A server for hosting.
A domain name.
A website
Creating or Designing a website
Just because website pages have codes behind them doesn't mean you need to be an IT expert to create one by yourself. In fact, you even do not need to know any kind of coding or possess any technical knowledge or skills to create/design a website.
As we are living in the age of technology and it has advanced tremendously that there are a lot of website creators that allow you to create/design professional-looking and functional websites without much technical knowledge like coding etc.
So if you have little to no technical knowledge and skills, you can use the website builder to build/create your website. The majority of website builders are designed for non-technical people.
All website builder has following features.
The best thing is nothing to download or install. Just open any web browser, go to the website builder, sign up and start building/creating your website.
No technical knowledge/skill required:
As all the web builders are created and managed by professionals and experts, so you do not need to look around for technical knowledge.
The website builders use an editor that allows you to build/create your website design by dragging and dropping require web elements into the desired location.
Professionally designed template/theme:
Last but not least most website builders have an extensive library of professionally designed theme/templates. So you do not need to worry about disjoined layout or mismatched color schemes.
There are a large number of easy-to-use website builders and some examples are wix.com, squarespace.com, website.com, weebly.com, shopify.com.
But those having some technical knowledge, skills, and experience are always open to choose a content management system like WordPress or Joomla to build a flexible, powerful, and highly customizable website. But these CMS often has a very steep learning curve.
Types of websites.
According to a survey, there are over 1 billion sites on the World Wide Web, which provide a lot of different types of content but also a lot of confusion on type and design that will actually work best for you.
As a designer you must be familiar with all the different types of website out there, so can easily decide to choose a website design that meets your needs.
Here are some different types of websites.
These websites provide a place for creative professionals to showcase their best work. These are perfect for writers, designers, artists, furniture builders, filmmakers – you name it.
A website having blog features can regularly update articles, photos, and videos.
These websites are the online destination for shopping where customers/users can purchase services or products from you.
A website having magazine features can regularly update articles, photos, and videos related to education or any other information.
Although you cannot redesign these websites by yourself. But you can create contents that drive social media likes, comments, and shares. Also, you do have control over the look of your profile, groups, and pages.
There are some important pages for all the above websites.
– Landing page
It is a specific page use for marketing campaigns and helps to drives visitors to take action. Its contents should be limited and to the point toward the call-to-action that you like the user to take.
– Home page
The home page of any website is the main hub that serves as the face of a brand. It helps site visitors get to different areas of the website and serve as a conversion funnel. As most people come to the site through the home page, so its design matters the most.
The home page can have different forms, but its main purpose should be navigation and point of interest for the website visitors. In other words, it must have the best site's hierarchy and navigation structure.
– Directory and contact page
It is a place where visitors/users can connect with you.
Hire an expert to design a website for you.
There are numerous freelancing platforms from where you can hire a freelancer to design a website for you. . Either you need Portfolio websites, Blogs Websites, E-commerce websites, Magazine websites, or Social media websites they will create it according to your requirements. So, if you have a reference website for design, they will follow that design and pattern or you can let them use their creativity. In both cases, you will get an amazing website at the end. Some best freelancing websites from where you can hire a freelancer are Guru.com, Fiverr.com, and Upwork.com, freelancer.com etc