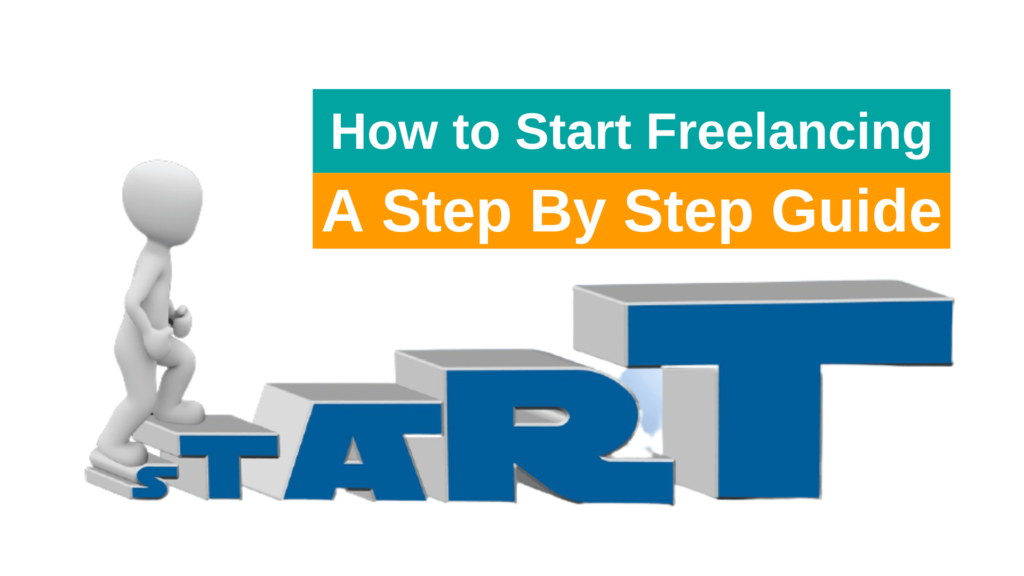 Freelancing is the most adopted and over-rated profession nowadays. This provides you more than one opportunity to earn by working for different employees. You don't have to move from one place to another for better job opportunities. In modern times, different companies prefer to hire part-time employees instead of full-time physical working.
As remote work is gaining popularity because companies don't have to pay residential or other forms of pays, they prefer remote employees. Freelancing has never been as easy as it has become now. More than 60 million people are working as freelancers in different niches and earning a handful amount of money to live a good standard of living.
Before moving to step by step guide to start freelancing, you have to come out from his thought that freelancing is easy. Freelancing is easy only if you put your all potential and capability into it. If you are not devoted and hard worker you cannot survive long in this run.  Time, hard work, patience, and talent are the vital features that will help you to become a successful freelancer.
Benefits and drawbacks of freelancing
In freelancing, you are free from the burden and tasks that are assigned to full-time employees. You can manage the workload depending on your capabilities. If you are active enough then you can take multiple clients and work on different projects. In this way, the sky is the only limit to your success.
If you are not active enough for a day, you can sleep and rest as much you want. You can quit your task or do a little when you are not in the mood of working.
Working as a full-time freelancer is a risky job, as you don't have a fixed salary. Sometimes you have many projects and money is coming from all sides. But on the very next day, you may not have a single project to work on it. To avoid this scenario, you have to develop your portfolio and good reputation as well.
Step by step guide to start freelancing
Prepare yourself
Set your goals
Freelancing skills
Select your audience
Set price range according to your services
Polish your skills
Create a compelling portfolio
Make first delivery beyond excellence 
Step 1: Prepare yourself
Starting freelancing is not easy just signing on different freelancer platforms and that's enough. Before making the first request you must have some vision. Starting something new always leads to confusion and doubts. But come out of this with good knowledge about your skill.
Other things that must be present in a freelancer is good communication and interpretation skill, stable internet connection, patience, and a strong portfolio.
Step 2: Set your goals
After making your mind, decide your aims and destination where you want to be after spending years freelancing.  Ask yourself why are you doing this? How it will help you to lead a better life?  Answer f these questions will help you to work harder.
You must decide that are you taking freelancing as a part-time or full-time job? At the start you can take freelancing as a source of side income, but as it is always good to have your boss. You can adopt freelancing as a professional after making your name in the market.
Step 3: Freelancing skills
If you are capable enough to use your skills for people's betterment you can start freelancing. You are freelancing part-time or full-time, you must be equipped with good and professional freelancing skills.  The first step is to identify the skills you can have. You may have:
The skill that you have gained from your previous job experience
Skills that you have learned from a different platform
Skills in which you are interested
You can earn well if you have a skill from your previous job. Through this, you can make your name in less time with little effort. Try to look for other opportunism as well. If you have any other skills that you think people can pay you for them you can go with them. The most beneficial sill will be that in which you are interested and you will love to work on that skill.
If you have several skills that can get paid, you have to narrow down your domains. Do proper research for your skills and note down the completion and extent of other freelancing earnings from that niche. Choosing a skill with less competition enables you to earn more.
Step 4: Select your audience
While starting freelancing and working on a particular skill, always find what kind of problem you are solving? And what type of people will contact you to assist them in solving their issue?  Finalizing your audience before starting any service will help in time-saving in search of suitable clients.
Finding the first client is difficult and exciting at the same time. For first, look for those who want to work with you. After that be more specific in your client's searching. For example, you were helping people in planning their new small business, now be specified in the category of business. Either they are opening a restaurant or launching a new product.
To search more specific audience you have to look for problems people are facing but they have no idea what they are facing? Sometimes people know the problem but cannot afford your services to solve that issue. So, you have to go through both situations to build your portfolio of a problem solver at a reasonable price.
Step 5: Set price range according to your services
The price of your offered services matters a lot in freelancing especially if you are a beginner. You don't have to look for competitors for the price you are offering. Try to charge according to your services and work. Beginners charge a little at the start but it leads to more complaints and a negative image is developed. Charging high will lead to fewer clients but a good image of your work.
There are many other ways that you can use to set your price. On fiver and other platforms you can charge hourly, or you may start working as retailers, where you will be paid after month by noticing per day hours. For fixed-income, you may go from monthly charge project or may move to value base project where your charges increase by increasing the services offered.
Step 6: Polish your skills
Once you have entered the freelancing world, set your goals and targeted audience next step is polishing your skill. You can never run long in this field if you are not perfect in the work you are doing. For example, if you have decided to work as a graphic designer you have to think in an entirely different way from an ordinary person.
You must know about word press and other things related to it. If you polish up your skills by taking different online courses and YouTube classes you can perform well for every next client as compared to the previous one.
Step 7: Create a compelling portfolio of your previous work
Scams are everywhere but on the online platform, they are ore in numbers. Both the client and seller get scammed. Working as a new freelancer without any previous work is very difficult and it takes a lot of time in getting your first client. To avoid this period, you must have some samples of your to show your client so he can trust you.
If you don't, you have to find some project where you can sell your free samples and then include them in your portfolio. You can share your portfolio on different social media platforms like Instagram and others but the best way to show your samples is to create your portfolio website. This will create a good and professional image of yours in your client's thoughts.
Step 8: Make first delivery beyond excellence
Once you have completed your homework before appearing freelancing, next is the on-time delivery of your first project. On-time and up-to-mark delivery is always good and creates a more professional image of yours. For example, if you are working as a freelancer writer try to add some extra word counts, headings, and bullet points without charging some extra money.
Conclusion:
Working as a freelancer you will get to know about your potential and your hidden talent. You can be a good freelancer if you can complete your duty time and then freelancer tasks without any extra stress.
You can make hundreds and even thousands of dollars by working few hours a day. If you earn 50% of your income from freelancing as compared to the full-time job you are doing good as a freelancer.
If you want to be a good freelancer, you have to follow this step to step guide. This article will provide you all information that you need to know before starting your carrier. Above all hard work and honesty with your work is the key to success.