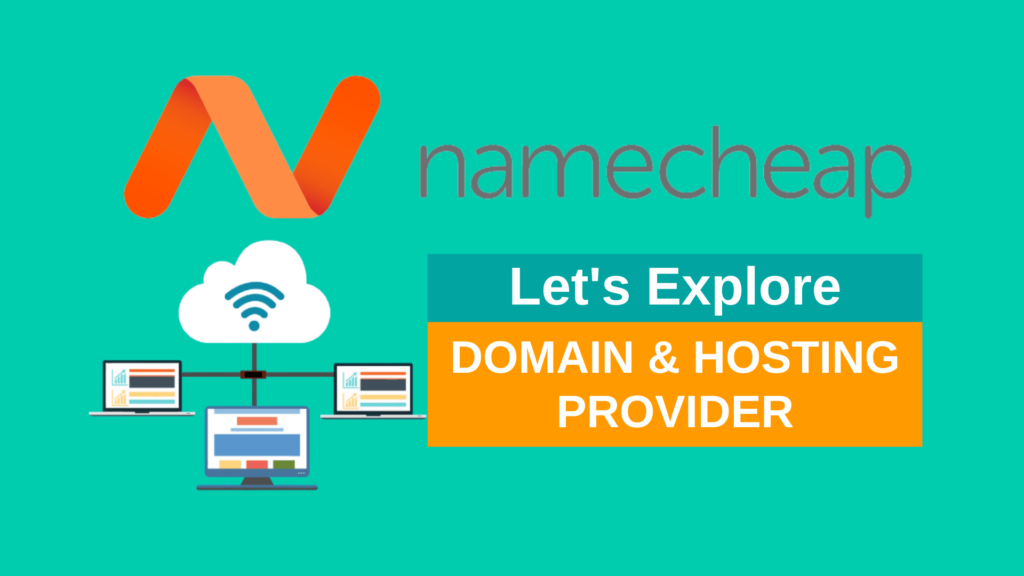 NAME CHEAP
Namecheap Inc. is an ICANN-accredited (The internet corporation for assigned names and numbers) domain name registrar, which provides domain name registration and web hosting and also offers management services. It is based in Phoenix, Arizona, and the United States, and its headquarters located in Los Angeles, California, and the US. Founded in 2000 by Richard Kirkendall, Namecheap is currently by trusted 11 million registered users and with over 10 million domains.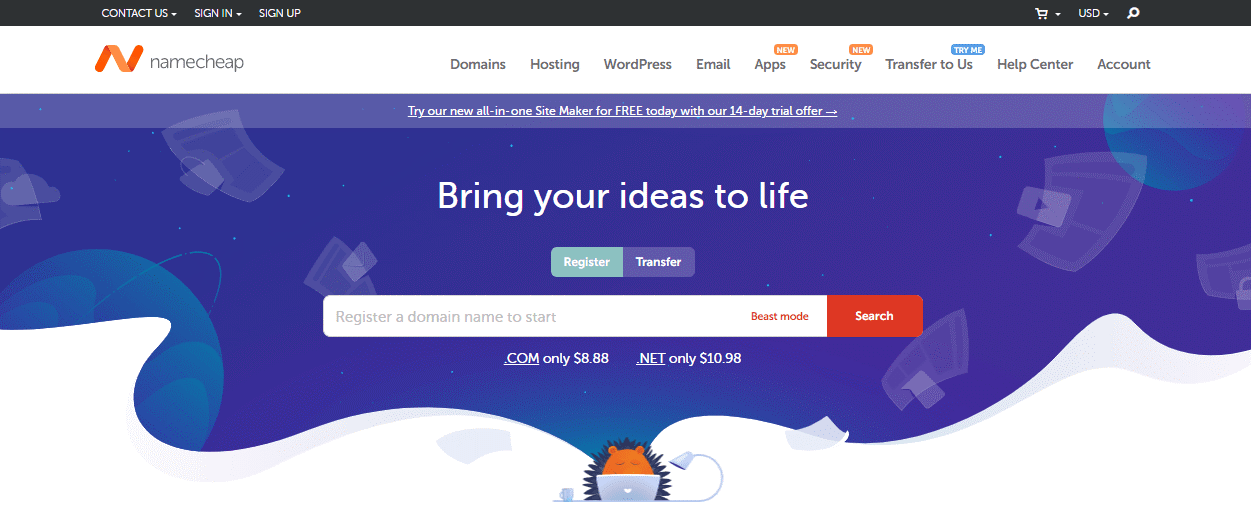 ICANN- accredited means resell domain name registrations to individuals. ICANN is the regulator and supervisor which entitles organizations to provides domain name registration to registrants.
SERVICES
DOMAINS
It is the main element for the people who want to introduce their products and services online. Creative domain names are available with the extensions of .com for commercial, .org for organization, .info for information, .net for networking, and.app etc. Domain names are available at variable prices based on the chosen plans.
Domain name search:  It allows the users to search the domain names of their own choices. Namecheap made the domain search very easy, you can search through the search bar and it will be available in seconds.
TLD (Top-Level Domain) is used to manage the location in the domain name system. The most commonly used TLDs are .com, .net, .org and now .makeup, .forum, .law, and many more new TLDs launched by Namecheap from time to time which is looking more different and creative from other websites. All TLDs ranked the same on Google considering .com.
It allows the customer to create a personalized domain to market yourself as a brand such as your name followed by .co, .net, or .me to make your online presence different amongst all. Your domain name should be catchy, easy-to-pronounce, short, quick, and related to your products and services.
It ensures fast performance to keep your business running, site security prevents attacks on the personal data of users. ALIAS record support is also included in premium DNS which allows your records to co-exist with other DNS records about your business name.
Namecheap also provides free DNS which is an impressive feature of it to unique in all marketplaces than others. Free DNS makes your online presence more visible to the internet that helps your business to live and grow in a competitive environment.
HOSTING
Web hosting is a service offered by Namecheap that provides resources for placing information on a server. The main types of web hosting are mentioned below;

The main feature is the one server is used by several users at the same time. It includes free SSL certificates, WordPress and cPanel, 24/7 live support, and personalized service email.
It allows users to resell their server resources at their desired prices. Its features include account management tools that perform different functions which help to make the most out of your business. All the essentials help to manage everything from one single dashboard.WHM (Web Host Manager) is used to creating and modify hosting accounts.
VPS hosting allows the customer to share the resource of one server among many users. It offers security through hardware and software firewalls and server backups. A support system is available 24/7 as in the face of Namecheap management. Complete customization and significant improvements to your website's speed, performance, and loading times.
A physical server where all the resources of one machine are dedicated to a single user. It includes high security, Network optimization, server management options, and free migration.
WORDPRESS HOSTING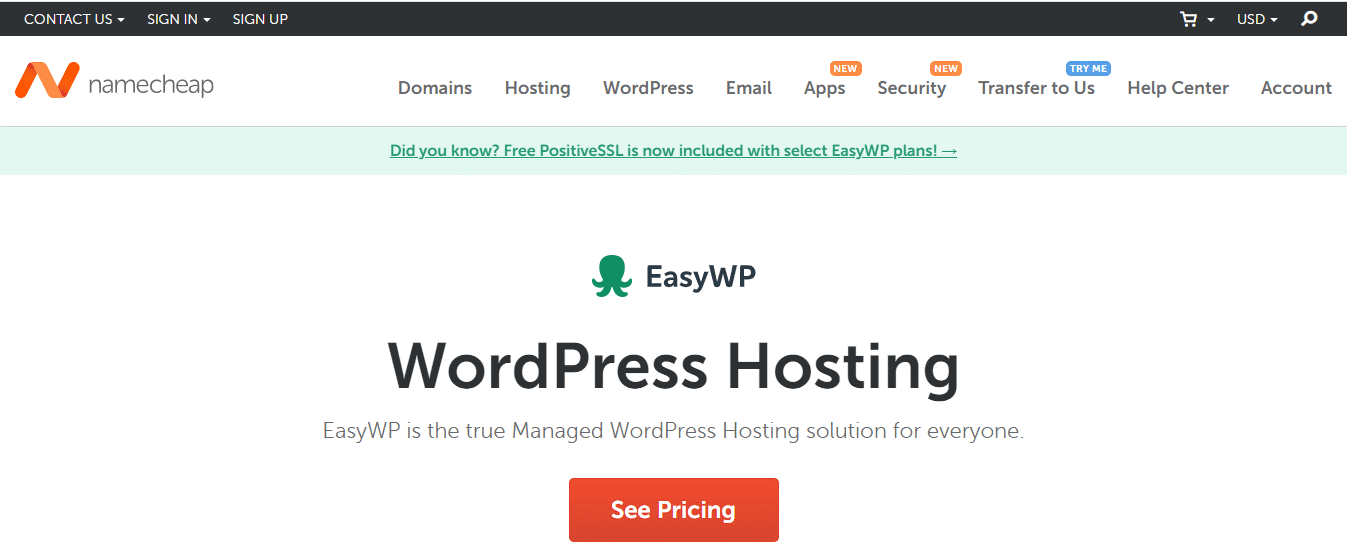 Namecheap is the fastest and the cheapest WordPress hosting provider among all of its competitors worldwide. Through EasyWP website builder you can create a site in "30 seconds" because of its easy-to-use and easy-to-understand interface and with EasyWP WordPress hosting plans you can save your money and valuable time and it is faster than standard WordPress on traditional shared hosting. WordPress website is also powered with the cloud technology provides you 'set-and-forget experience. This exclusive idea is designed to let each website live and grow, without any barriers. Namecheap allows users to create and customize their websites with thousands of default and customized themes and plug-ins to make their site virtually appealing. It offers safe and secure sites, easy backups, and restores SFTP, and database access. An easy-to-use dashboard of WordPress hosting is one of the attractive features of Namecheap. 
WHY CHOOSE NAMECHEAP?
The name itself signifies the affordability of its prices of their products and services. It has the low-costs prices domains among all of its major competitors such as GoDaddy and Bluehost.
Free products and services:
Who doesn't want free stuff that's why Namecheap also offers some free stuff when you do the sign-up includes a 2-month trial, free domain privacy protection to secure your data, free DNSSEC security which protects your website from online frauds and these are the main highlights of the Namecheap. Although Namecheap is the most affordable domain and web hosting registrar among all its rivalries they provide some free stuff to make their presence unique around the world.
it is the main priority of the company to make sure the privacy and security of their websites and their customers' data safe and secure. Namecheap always supports the rights of the customers and individuals online.
30-days money-back guarantee if you don't find the Namecheap right according to your needs and requirements. Add-ons such as server management, IP address, and license are non-refundable.
Prices vary from basic to advance plans. Although Namecheap is the most affordable and cost-efficient in their products and services.
Namecheap is consistently supporting their customers in every stage of the website creation process. A professional, knowledgeable, and friendly support team assists the customers in their issues anytime 24/7/365 through live chat and E-mails. One of the major con is no phone support is available.
You can boost your business online presence on different online marketplaces by Namecheap products and services in your budget.
Monthly coupons, different deals and packages, VIP rewards, promotions, sales, and their occasional sale are some of the predominant elements of the Namecheap.
REVIEWS
Namecheap rated 4.7 out of 5 based on the overall satisfaction level of the more than 1.5 million customers. End-users find it very intuitive, cheap costs, user friendly, having clear and understandable layout and simple confirmation process made the customers satisfied. Clients experienced good customer services of Namecheap because of its simple user interface which is also easily understood by non-techy people, yet straightforward and uncomplicated to its products and services details.