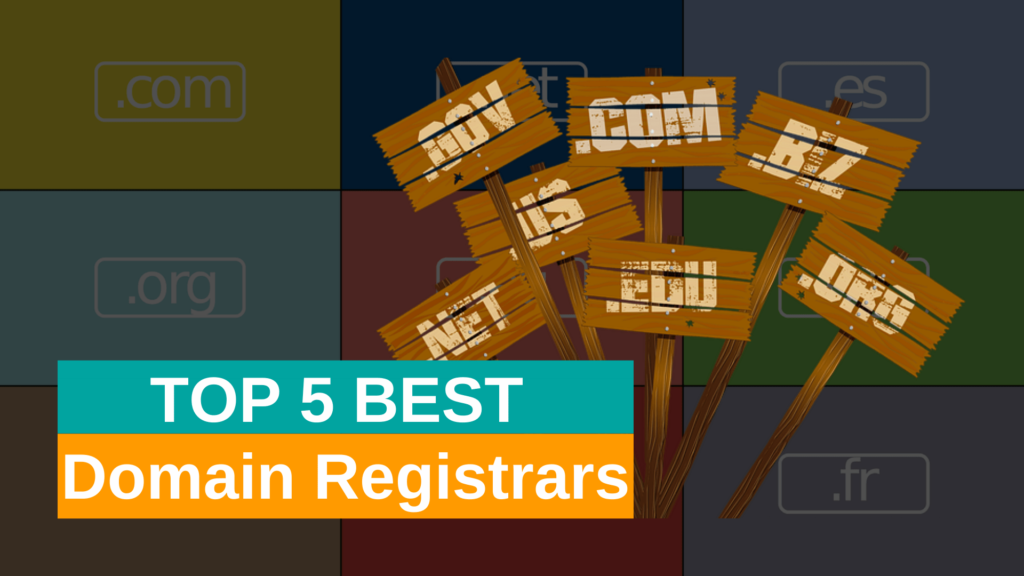 Best Domain Registrars
During website creation, a user needs a specific domain name with its IP address for easy access. While assigning a domain name domain registry and registry plays a vital role in making all the procedures easy. When you want to buy a specific domain name from the registrar it is assigned by the registry and you are charged with some fee if you use paid domain registrar tools.
If someone claiming to have a specific domain it means that name is assigned to a specific person by the registrar for a limited period. Registry owns the name of the domain in real and the registrar plays the role of the middle man in assigning a name to people and in turn making the transfer of money easier between both parties.
Domain name registrar plays a key role in protecting the privacy of the user. Some registrars have private registration that will demand your real name, address, and phone number. This domain registrar will keep your data safe from hackers and any other miscellaneous activity.
A domain registrar will keep your data saved by the generation of random and more secure codes. A more secure domain registrar will implement better domain locks so your domain cannot be transferred to anyone. Moreover, additional security of domain name is achieved by asking for identity verification at every step of registration.
There are many domain registrars available that provide different services at different rates. In this article, we will review the best domain registrar that will save your time in search of the best one. You can read the whole review and can use the domain registrar that you like the most.
Bluehost- Best free domain registrar
If you are new in website creation and want to save your time and money as well then Bluehost can be your best domain registrar. If you use Bluehost as your hosting website you don't need to jump from one page to another in search of a registrar. You can get your host and domain registrar on the same page.
For beginners, there is an advantage while using Bluehost that they can use one domain name free for one year. After one year you have to pay just $3 to $4 per month. Hosting is never easy and cheap but it is almost free when you use Bluehost as your hosting website.
When you have hosting and domain name on the same website less technical work will be on your side.  DNS records matter a lot in keeping your website safe, but if you select Bluehost for domain registrar it will be handled by the website. This also reduces the difficulty that arises in terms of compatibility of hosting cite and domain registrar.
Blue hosts have different packages from basic to premium, extra security is provided to your account if you pay $15 as a security fee. You can run and use templates for the quick building of your site.
Domain.com – Best domain registrar with a low renewal price.
Next in the list of the best domain registrar is domain.com that allows you to registrar your domain name with step by step guide. Unlike Bluehost, it does not provide a free domain name but it has many other features that compelled millions of people to transfer their domain to domain.com due to their exciting offers.
No matter if you are new or have a few years of experience in website creation and hosting, domain.com has always been helpful in the creation of a name. When your domain name is going to be expired their renewal is always a problem and you look forward to some website with cheap renewal rates.
Domain.com offers the cheapest domain name selection even on renewal no matter what package you using from basic to premium. WHOIS privacy protection feature is free when you use domain.com as a registrar. This will keep your personal information to appear on the screen and also keep secure your website from hackers.
The best feature that can be very beneficial for beginners is that it only takes 60 seconds while using domain.com for your hosting and domain name registration. SSL certificate is also available by paying an affordable fee. Use domain.com as it is the best domain registrar in terms of services offers and most important price.
Porkbun – Best domain registrar.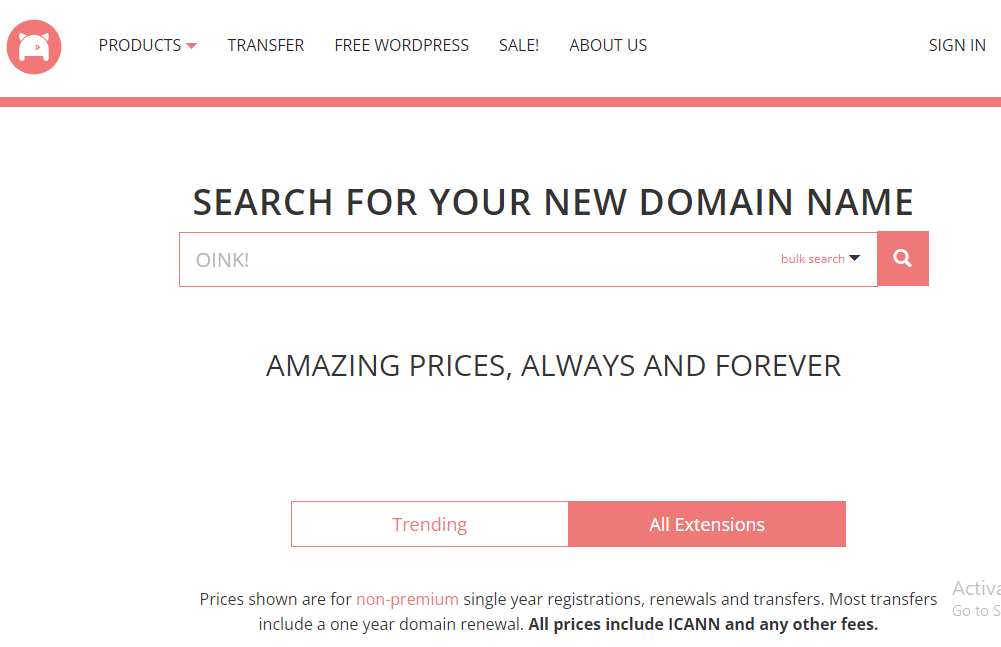 Several options are available while naming your domain, the most popular of the time is .com. as a beginner it is very difficult to get a .com extension for your domain name. And luckily if you get that you have to pay a lot every year for the renewal of the domain name. Hundreds of websites are closed every year because they are unable to pay such a heavy amount.
Porkbun is a game-changer for those who want some unique domain name with outstanding subscriptions and even renewal charges.  Not only low in price this domain registrar offers more WHOIS security and SSL certificate to keep your website safe from hackers.
Porkbun charges only $228 for ten years in subscription and then renewal of websites. You can easily save $10 to $15 as compared to other websites per year. Porkbun can be the best domain registrar for those who are willing to adopt other extensions in their domain name form .com.
Porkbun has several extensions available on its platform with different subscription charges. You can choose your domain name from available 200 extensions like .shop, .review, .app, and many more at reasonable prices.
Namecheap – Best domain registrar with identity security.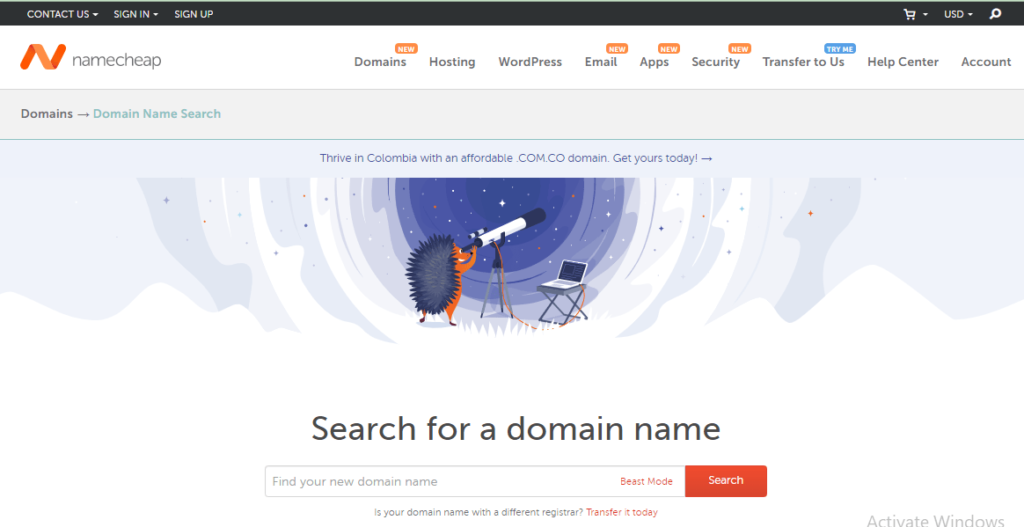 Namecheap is the best domain registrar for those who don't want to spend more on the .com extension than on another website. If you use Namecheap then it will charge only $10 for a subscription in one year. These charges even dropdown if you use Namecheap for the renewal of the extension of your domain name. Not only this registrar offers an affordable and low price for more than 10 million domains.
Wen privacy is your concern. But you are unable to pay extra charges for better security then Namecheap is the best domain registrar for you. This will keep your name and other personal data secure, free SSL certificate, DNS management prevent it from publishing on your homepage.
An additional feature that one can get with Namecheap is the professional setup of email with your website. Your activity and other things all are forwarded to your email address just like professionals with no extra charges. Namecheap is getting the attention of many professional and beginner website makers who are looking for some reliable and cheap domain name registrar.
NetworkSolution – Best domain registrar for longer duration.
The next best domain register in the list of the top 5 best domain name registrars is NetworkSolution that will keep your domain name active for a century. This is not a joke, this can become a reality only with NetworkSolution. This domain registrar allows you to take a name with 20 years or more than this subscription. This will save the time that you have to spend every era in terms so renewing of your domain.
Hundreds and thousands of domain names are unable to renew every day, this can be horrible for companies with a big name. You can save yourself from such a horrible scenario only with NetworkSolution. Not for the long term, you can avail monthly, yearly, 10 years, 20 years, or even 100 years subscription.
This website will charge $14 per year if you want a 20-year subscription. This price is even higher than other domain registrars but this will save your time and other expenses that you have to submit every time on renewal of your domain name.
Conclusion
The selection of domain registrar is not so tricky if you go with our selection. You can go for domain.com for low renewal rates, for the free domain name you can go for Bluehost.
Namecheap. NetworkSolution and others also have different features and packages. You can just find your match and select a suitable name from the best domain registrar.