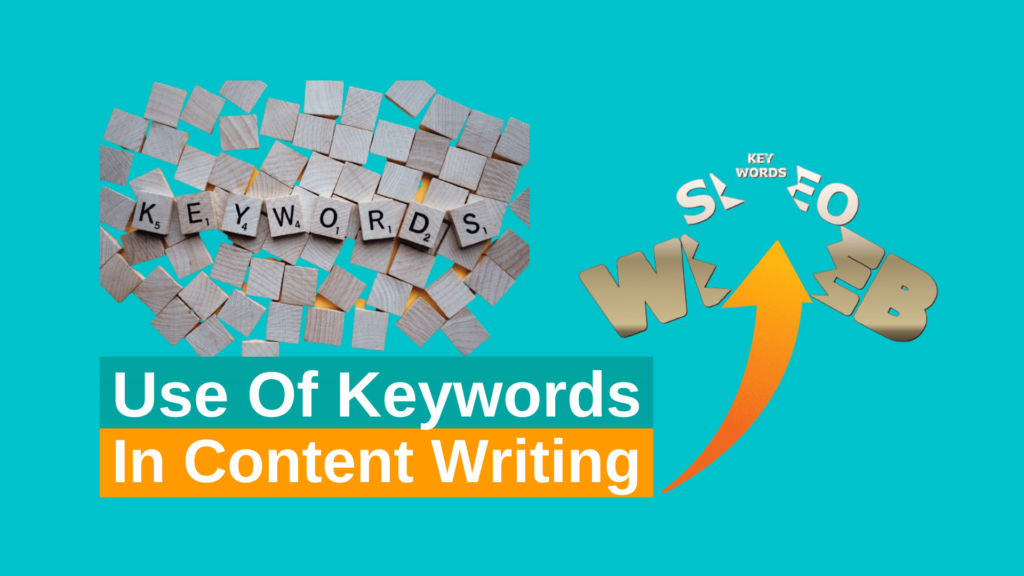 How to Use Keywords in Content Writing
Usage of keywords is significant for SEO ranking as it plays a vital role in making a great impression on your article. Keywords are the specific words that will help readers grab their attention as most readers search through keywords. Therefore, this faster ranking emphasizes the importance of keywords; one must know how to use keywords in content writing or blog.
Better use of keywords in articles helps quickly find your articles, thus also plays a vital role in ranking. Therefore, the usage of keywords is necessary; one must know the exact way to use them naturally to attract more readers with a better order.
While writing, keywords are essential; you must know their usage's exact way and purpose. The number of keywords in an article depends on how they are linked to each other or help present the message better. Usually, 5 to 210 keywords are used in an article, including primary and secondary.
Using keywords for SEO is more beneficial than the usage of random keywords. This usage of keywords is easy to say but to rank articles through SEO is not easy as it looks. This article will explain how to use keywords in blog to get ranked in a short period.
Use of keywords in the meta description
The meta description is the summary for all the articles that will appear under the title and URL of the tour article. Using keywords in Meta descriptions is the easiest way to rank your article in less time. For better SEO, decide your primary keywords and use them naturally in Meta descriptions for better ranking.  One keyword is enough for Meta description; one can use a supporting keyword for more killing impressions.
Keywords in the title tag
Using keywords for SEO is the most challenging and easy process at the same time. However, keywords are essential for quick SEO ranking as keywords are only 50 to 60 characters long, so one must use the main keyword with a website name for the user and SEO friendly title that will appear on the screen.
Place a primary keyword in the first paragraph.
When you write an article, decide your primary, secondary and additional keywords. According to Google's SEO ranking policy, there must be a keyword present in the first paragraph of your article. This use of keywords in the first paragraph will give a rough idea to the reader of what will be in the report. Google scrutinizes only 100 to 200 words of nay article and ranks it accordingly. If your first paragraph is both with the primary and secondary keyword, this will be truly outstanding for your SEO ranking.
As starting paragraph of your article must contain a keyword same is true for the ending. If you are willing to rank a website, there must be primary and secondary keywords placed naturally in the article's last or second last line.
Placing keywords is not only the key to ranking naturally placing them is also essential. Using keywords for SEO can be more effective if they are placed in the part where they are required. It is essential to keep the reader's attention towards the article, and it is only possible when keywords are placed in a naturally attractive way.
Add keywords in Alt text.
Images and content of blog posts are very closely linked to each other. If you are not using any photos in your content, try to add some color as it will also appeal to the readers. Blogs with colorful images rank faster than without images. Colors are not visible to a blind person, so don't make your blog post colorless, use images close to your article.
According to research, images are more common to search on Google than any other social media application. With the addition of a picture, there will be a chance to add alt text that contains your primary keyword. This will lead to ranking your website related to image criteria and provide an engaging source for readers.
Recently, everyone has been writing blogs to make his passive income more active. But most don't know how to use keywords in blog? One of the main ways of quick ranking is using keywords in the main URL. So, when writing a blog post about a specific topic, add the primary keyword in the URL.
Usage of keywords in URL is not necessary, but it will help in the faster ranking of your website. For example, if you have written quality content but don't have the keyword in the URL, it may affect the ranking time, and people cannot see your post at the top.
Use long-tail keywords in subheadings.
When you are looking for ways of how to use keywords in content writing, an effective way is to use keywords in subheadings. Long-tail keywords are more beneficial in SEO ranking as the reader is aware of his need. Instead of using blog post keywords, using keywords in the blog will be more effective for the reader.
Reading a whole paragraph-like lesson is not pleasant for any reader, so subheadings are very important. Instead of placing bullet points, use HTML tags like H1, H2, and H3, and so on. You can use long-tail keywords here and rank more than one keyword through a single post. With more subheadings your article has, your content will be multiple chances to rank better and fast.
Include anchor link text with keyword
If you are using keywords for SEO, you must focus on the anchor text. Anchor text is the part of your article that you highlight by adding links. Anchor text in any article is the best method to rank a website in a better way. Random anchor text also may help in ranking, but use the primary keyword in the anchor link text for SEO ranking.
You can include more than one anchor text word in an article, as there is no limitation of their numbers in any article. However, the exact anchor link text can lead to a lower ranking, so one must use secondary and additional keywords as anchor link text, and it also helps in better ranking.
Choose keywords carefully
Using keywords for SEO is helpful when you have the right keywords to place.  After deciding on a topic related to your work, now is the time to decide and search for keywords. There are different keywords planners available that help in finding keywords. First, make a long list of keywords linked to your topic. After making a list, it's time to research and finalize primary, secondary and additional keywords.
People searching for the keyword, competition, and per-click cost help decide the primary and other keywords for your blog post.
Conclusion:
Content writing and the number of keywords are equally important for website ranking. There must be a gap of 60 to 70 words in using main keywords. Ideally, in an article of 1000 words, one can use primary keywords 7 to 10 times; you can use secondary and additional keywords 3 to 5 times. But it is not necessary to use it in the same way.
Use of keywords in URL, Meta description, first and last paragraph of the article is essential. But not use them if the words don't fit there rightly. One cannot be perfect in using keywords. Only practice will teach and be helpful in quick ranking.
So, now we can hope that you have learned how to use keywords in content writing or in blog writing properly.