Before discussing about how to reorder blog posts in Wix let me highlight that blog posts are an invaluable tool in today's digital landscape. They serve as informative, engaging, and relatable pieces of content that connect with readers on a personal level. Whether you're a business owner, a passionate writer, or a hobbyist, blog posts offer a platform to express your ideas, share your expertise, and build a loyal following. It can also be a source of income who want to display ads or use affiliates programs. Blog posts in Wix provide an opportunity to delve deeper into topics of interest, offer solutions to problems, and spark meaningful conversations. If your business or Wix website regularly publishes blog posts for content marketing purposes, it becomes essential to present them in an orderly manner.
In this article we will explore each and everything about how to reorder blog posts in Wix. You may know that the default settings in Wix allow you to sort your blog posts based on their publication dates and currently, chronological order is the only option available in wix blog posts reorder. This means that the newest blog post appears on the top and the older ones go below that.
At present, Wix does not offer additional blog posts sorting options for users to implement on their websites. Unfortunately, you cannot sort your blogs from newest to oldest or by factors such as popularity, views, or comments.
This feature is still a request being made to Wix Support by many users. If you believe that Wix should incorporate this feature into their platform, you can also show your support by voting for it here.
But, do not worry, we can use the chronological order option in a creative way to sort or reorder blog posts in wix according to our requirements.
Reorder Blog Posts in Wix
Let's delve into the process of reordering blog posts in Wix.
Log in to your wix account.
Open your website's dashboard. From here, navigate to the left-hand panel and click on the "Blogs" tab.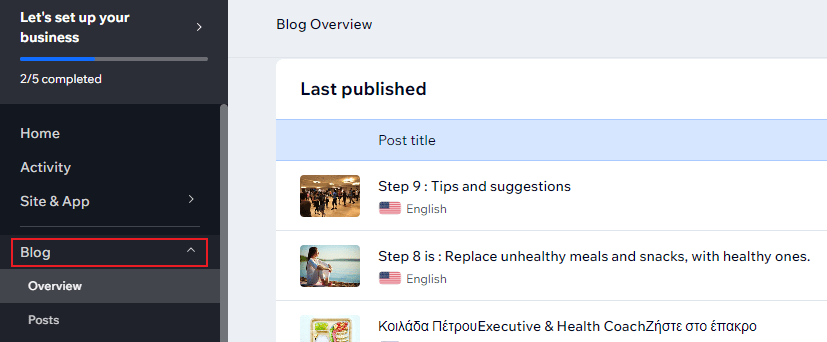 Or open your website in Wix editor mode. If you open your website in editor, then click on the blog widget and then go to "manage posts".
Choose the specific blog post you wish to edit.
Once the post opens up, locate the Settings icon on the left side panel and click on it.
Select the Publish Date box. Set the desired date. To have the post appear at the top, it should have the latest date among all the blog posts. Conversely, to have it appear lower, select an older date.
Save your changes by clicking on "Save & Publish."

Conclusion.
In conclusion, blog posts are a very valuable asset in this modern digital landscape. They offer an opportunity to share best informative, engaging, and relatable content that resonates with readers on a personal level. Whether you're a business owner, a passionate writer, or a hobbyist, Wix blog posts provide a platform to express your ideas, showcase your hidden expertise, and cultivate a dedicated audience. They can even generate income through advertising and affiliate programs. Within Wix, blog posts allow us a deeper exploration of topics, providing solutions and initiating meaningful discussions. While Wix currently lacks additional sorting options, we can still utilize the chronological order creatively to meet our requirements. By following the simple steps outlined above, you can easily reorder your blog posts on Wix and present them in a manner that suits your needs.
Remember, effective organization enhances the impact of your content and ensures a seamless user experience.
Stay tuned as Wix continues to introduce additional functionalities, both for publishing and reordering blog posts on their platform.