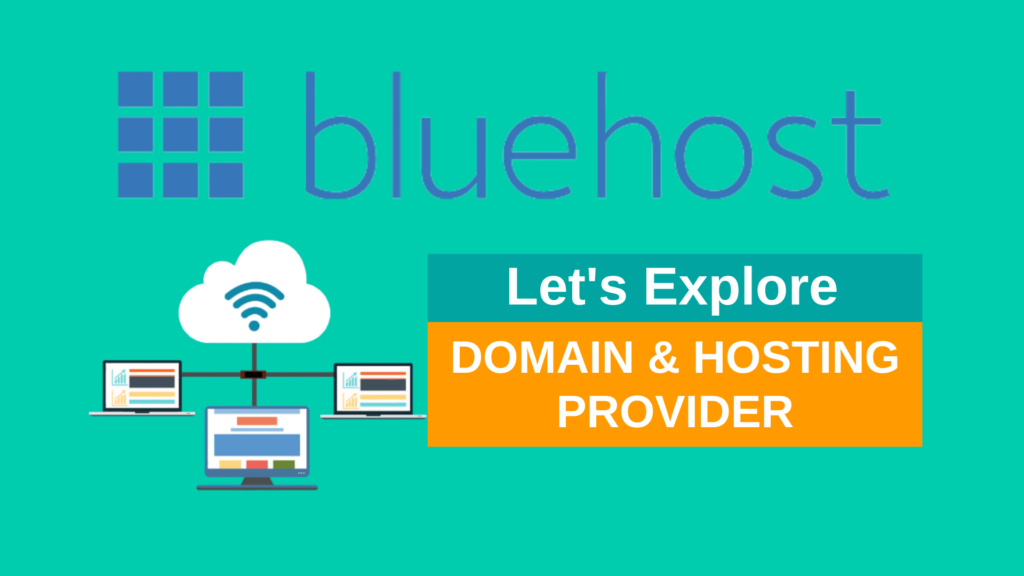 BLUEHOST
Bluehost is one of the top-rated, reliable, and inexpensive web hosting marketplace worldwide. They are already trusted by more than 2 million customers across the globe. Bluehost is currently employing 750 people who are operating their company in a 50,000 sq. feet facility in Orem, Utah, and the US.
Bluehost is owned by Endurance international organization which is also a parent organization of many other web hosting companies.
BLUEHOST KNOWN FOR
HOSTING
Bluehost is very well known for providing web hosting services around the world. Web hosts come in diverse shapes and sizes depending on your website needs and obligations.
Bluehost offers three web hosts:
Shared
VPS(virtual private server)
Dedicated server
The type which you would choose for your website is determined by some factors including expected site traffic and type of your website.
SHARED WEBHOSTING

The most highlighted feature of shared hosting is its affordability. It includes 4 different plans according to your website requirements and their basic pricing, plus, choice plus, and pro. All plans include SSL certificates, resource protection, scalability, and domains.

VPS HOSTING

VPS hosting offers more access to perform commands and make configuration changes to their hosting environment.VPS provides better security, great stability, and good performance.
Differentiation in plans is based on RAM, SSD storage, bandwidth, and IP addresses. Bluehost offers 3 plans standard, enhanced, and ultimate with variable prices.

DEDICATED HOSTING

While choosing any plan of dedicated hosting Bluehost is a far better option in reliability and affordability as compared to other sites. It includes 3 plans which are standard, enhanced, premium, followed from less to more prices.
WORDPRESS HOSTING
WordPress is the need of every beginner or an advanced user who wants recognition across the globe either through their website or from a blog. WordPress hosting is used when the user needs resources, products, tools, and support to create and manage their WordPress website.
Bluehost offers reliable and affordable WordPress hosting that helps the customers to successively boost, built, and manage their website. It is also recommended WordPress website since 2005, and that's a positive sign for the users who opt for Bluehost in their priority list.
Engaging and appealing features of WordPress such as customized themes, design, and plug-ins made Bluehost the most reliable site for beginners as well as the experts to successfully grow their online businesses.
PROFESSIONAL SERVICES
Bluehost also offers its marketing services in a very professional way to maintain and assist your website. It also helps to grow your online business and make it more visible, generate leads, build credibility in different marketplaces. Services are as mentioned below.

SEO services from Bluehost provide analytics of daily visitors, improve your site search engine rankings, helps to get exposure with the most competitive keywords, and also provide weekly reports for SEO keywords across the search engine.
Pay-Per-Click services design your website more visible for targeted audiences in high web traffic. They choose their targeted display platform for ads to get more traffic and they are also efficient in controlling the monthly budget of the website.
Website Migration service offers paid migration up to 5 websites as well as free migration for few sites. It also provides consultations, promotions, and assistance for your website.
BENEFITS MADE BLUEHOST TOP-RATED AMONGST OTHERS
BUDGET FRIENDLY:

if you are in a search for web hosting then you should opt for Bluehost because it allows you to spend much less on domains and hosting. It provides some features which will be free in all plans such as SSL certificates and marketing credits. Introductory prices from basic to advance plans are in a budget.

RECOMMENDED BY WORDPRESS:

Bluehost is one of the top recommended WordPress providers by WordPress.org since 2005. Bluehost is stacked with customized and innovative themes, designs, templates, and plugins.

UPTIME:

You can't choose the best hosting site until you compared their uptime with the other web hosting providers. Bluehost has one of the high uptime rates, their average uptime rate is 99.991% that showed their credibility and reliability for the existing and new customers.

24/7 EXPERT SUPPORT:

Visitors can contact the expert team of Bluehost through phone support and live chat 24/7.Bluehost knowledge-based page at the bottom of the website having all answers to your general FAQs.

MONEY-BACK GUARANTEE:

Bluehost comes up with a 30- days money-back guarantee .you will be refunded your money if you are not conclusively satisfied with their services in the first month. Refund only applies to web hosting services costs.

BETTER SECURITY:

Bluehost has several features to prevent malware attacks. They have a more security concern for their users' personal information to prevent attacks from the hackers, so they hide it when signing up for a private domain. Bluehost also provides SSL certificates free which are also proved their credibility regarding security.

USER INTERFACE:

Bluehost has very attractive and engaging interface features to compel visitors to go through more than 2 seconds. It is very easy-to-use for nearly anyone by their step-to-step tutorials for a website builder. You don't need to be an expert to create and host your website with Bluehost.

LOADING SPEED:

One of the most considerable features which are needed for high online traffic is the pace of loading pages. If your site takes too long to load so it will be problematic for your website engagement. Bluehost has the highest response time. In 2019, its average response time is 352ms which is half of the highest recorded response time of July 2020, which is 683ms. From the perspective of high loadings speed pages, Bluehost would be your best choice ever.

MARKETING SERVICES:

Bluehost also has an edge by providing marketing services, tools, paid ad credits, and ads to boost your website's global reach through SEO optimization to make your online presence more visible over search engines.
BLUEHOST PRICES AND PLANS
Bluehost has affordable prices as compared to other top-rated web hosting providers. There are various plans with different prices and features as per your website needs and obligations. All plans included free SSL certificates to prevent your security risks.